Source: Financial Mail
The machines are already proving handy in many fields, though there are air-safety concerns and lawmakers have not caught up.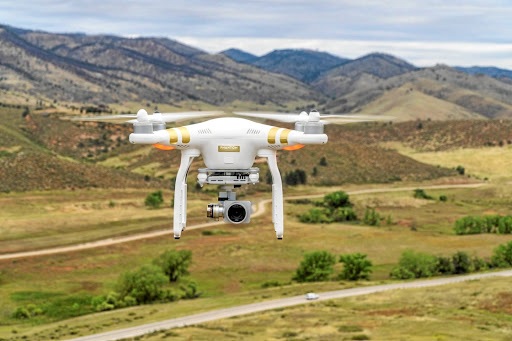 If ever there was a need for drones to provide quick aerial information to firefighters, police, and paramedics over a large area in South Africa, then the recent raging bushfires across swathes of the Garden Route fitted that bill.
There is drone footage of the devastation running up the coast from Sedgefield to Plettenberg Bay. It shows burnt-out houses in Knysna and blackened surrounds stretching for 100km. But how much quicker could emergency services react if they were guided by drones able to pinpoint the hotspots and places where people were in danger? The disaster that engulfed this broad geographical area could have been made more manageable by the accurate pictures aerial surveillance can give.
The reality in SA is that, for now, the use of drones for civil and commercial activities is limited. That means the drone footage of the blazes sweeping over the coastal bush and forest was more likely a result of chance than any organised activity on the part of the local, regional or national government.
One can only wonder at the possibilities there may have been to preempt a disaster that will cost insurance companies more than R4bn in damages claims. The Garden Route catastrophe came at the same time that a highly irregular storm was battering Cape Town.
Insurance companies have subsequently warned of rising risk premiums as changing global weather patterns make life more uncertain. Just last week, United Drone Holdings, a local company that consults across the industry, held a three-day drone conference in Midrand, near Johannesburg, to explore the possibilities of these technologies in SA.
While drones are increasingly being used by private companies and governments, legislation is lagging in most countries.
CEO Sean Reitz says the value of commercial drone activities in SA is not easily defined. "A recent economic impact study estimated the SA market potential to be more than R2bn, with the capacity to add almost 25,000 jobs."
The country is having "an extraordinary increase" in the uptake of drone technology in mining, agriculture, safety, and security, with the SA Police Service also making use of drones.
"Cost varies from entry level drones from R25,000 to high-end mining units with specialised payloads at R3m," he says.
Reitz says drones are "fairly strictly" regulated in SA, but research from global consulting group PwC in May 2016 indicates the country still does not require a licence for flying beyond a visual line of sight, and insurance is still not required for commercial flights.
As circumstance would have it, PwC's capital projects and infrastructure group had, a week before the Cape disasters, been on a roadshow in SA espousing the commercial use of drones.
The global consulting group says drones can help with costs, safety, transparency, operational efficiency, environmental compliance and risk management of capital projects, ranging from mining to construction and agro-processing.
Drones can also be utilised for sports and entertainment events, insurance and telecommunications, providing detailed images of people and machinery that can be used for exploration, mapping, surveying, planning and security purposes.
Perhaps, critically, they can also be used to prevent poachers from killing rhino and elephant, and any other of Africa's apex animal species.
Unfortunately, drones are already widely used in warfare, in places such as the mountains of Afghanistan.
PwC says "advanced image analytics" is a future asset for heavy industry, saving substantial time and costs. Michal Mazur, PwC partner for drone-powered solutions, says that in 2013 Poland became the only country to provide comprehensive legislation for legalised drone flights. Little wonder, then, that PwC's global drone activities are based in Warsaw.
"It's a new technology and a tool to get a new perspective. There is this buzzword — 'predictive analytics.' This is predictive analytics," he says.