14 April 2020
King Price
Minnaar Fourie, MD for its Commercial Division at King Price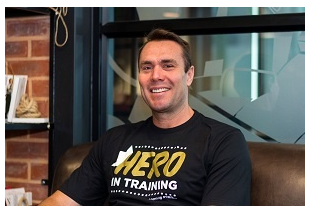 According to his email signature, Minnaar Fourie is a Big Friendly Giant. But beneath the affable exterior of King Price's newly-appointed commercial division MD lies a steely resolve to get things done – and after barely three months on the job, he's ready to start putting some big footprints on the local insurance industry.
Where to start? His first point of business has been to forge better relationships with the insurer's growing broker network, which makes up an increasingly important portion of its revenues. But his major area of focus is going to be driving a greater culture of data-driven decision-making to take the company, and the broader industry, to the next level.
"Our brokers are the bedrock of our commercial business, and our relationships with them are key. One of the areas where we can start showing real value to them is by sharing better data about our customers and the industry. I'm a humongous fan of data-driven decision-making: 'trusting your gut' might have worked 30 years ago, but it's a totally inconsistent way of making decisions. I see huge opportunity for us to transform the way we handle and use information," says Fourie.
A metallurgical engineer by training, his focus on data has been honed through 14 years of project management for the construction and civil engineering industry, including a two-year stint heading the project management office on one of the most challenging projects in the world, Saudi Arabia's $500 billion NEOM mega-city. Here, creating focused action plans in a rapidly-changing environment was a requirement for the job – attributes that he believes will stand him in good stead in the highly competitive local insurance industry.
"The great thing about insurance is that it's an extremely cash flow-positive industry. In the construction industry, cash flow is always an enormous problem. In short-term insurance, you get paid up front. This is a step change in managing solvency, and it brings a lot of opportunity. But to realise this, we've got to tighten up our processes, and be more efficient in the way we do things and make decisions," he says.
Fourie's view of a data-driven world starts with people, and giving them a solid understanding of the importance of good data management and what it can do for them.
"Many people still think data management is an IT function. I disagree. It's a collaboration between the business and IT, that enables good intelligence, which feeds good decision-making. We don't do reporting for reporting's sake: we do it to enable proactive, effective decisions. I want to create a culture of data management that sees our people, our brokers and our underwriting management agents (UMAs) let the system do the hard work to answer the important questions," he says.
That's why one of his goals is to have an industry-leading commercial pricing 'engine' in place within the next couple of years, to drive consistency and repeatability in the business. At the same time, he wants to retain the knowledge of what he calls the 'older generation' of underwriters, whose experience of the variables in the commercial space will help shape the flexible products that brokers and clients are looking for, especially in areas like King Price's fledgling agri business.
But for all Fourie's focus on processes, efficiencies and data, he's a people's person at heart. "This is a relationship business, and my management and collaboration style is all about people. Internally, it's about making sure we have the right people in the right seats, and then giving them the ability to manage the day-to-day running of the business. This allows me to be more strategic and explore ways to further enhance the business – to be on the business, not in the business. Then people feel valued, and have the authority and accountability to do things," he says.
It's early days yet. But all indications are that King Price's Big Friendly Giant is ready to take some huge strides, taking the company – and the industry – with him. | https://www.fanews.co.za/article/company-news-results/1/king-price/1373/king-price-s-big-friendly-giant-ready-to-shake-up-commercial-industry/28785